5 Cool Things (for the Holigays)
Last October I shared 5 cool things. Here are five MORE cool things I want to share with you. Some of them were given to me, some of them I bought for myself. All were cool enough that I just had to share. 🙂
1. ROWDY BAUBLES: Adornment with Attitude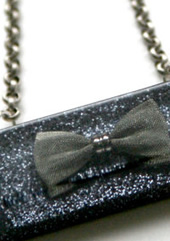 Sweet jewelry that's "so queer it's over the rainbow" by teukie jae.
I got a metal mini-bowtie resin pendant with a black glitter background. Love it, and Teukie's mission: "I am a geeky glamdrogynous queer disabled Korean adoptee, mixed media artist and anti-oppression worker. Although I have been designing jewelry since 2004, Rowdy Baubles is my first attempt to create jewelry specifically for queer folks. I'm incredibly excited to be taking on this venture and hope to make many beautiful things for my community! I am joined in this venture by my partner Sky (you'll see them modeling, they also help with production and shipping!) and the long-distance support of my friends. All items are handmade with love (& revolution) in my Seattle home."
[Buy it]



2. Freeing Ourselves: A Guide to Health and Self Love for Brown Bois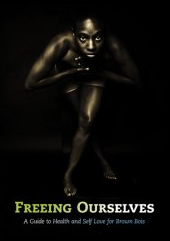 This is a fantastic health and sexuality guide created by Brown Boi Project.
While this guide is a great resource for everyone, it's specifically created for people of color whose gender expression/identity are masculine-of-center, encompassing a wide range of experiences, and focusing on things such as testosterone and transition, mental health, surviving sexual abuse, parenting, and whole-body health needs. I love that it includes nutritional and exercise guides, as well as explicit sexual health info, including a shout out to Shine Louise Houston! Beautiful images, intimate personal stories, and invaluable information.
[Order it]



3. Emilyn Brodsky's Greatest Tits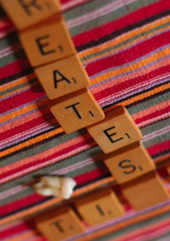 It's no secret that I crush out on ukulele players.
I think it has to do with my roots, coming from Hawai`i where in 4th grade everyone and their dog played ukes, and if you were cool you could perform "Feliz Navidad" behind your back. Being a portable reminder of home, I bought one a few years ago, but I think I play even worse now than I did when I was ten. Anyway, put a charming person with ukulele skills and a witty mouth in front of me and fuck I melt into a puddle. Which is exactly what happened when I met Emilyn at the Fleshbot Awards last November and she gave me her CD. When I listen to it, I tap my feet to crafty songs that are the perfect percentage of everything that make music good.
4. Hella Brown: Real Sex in the City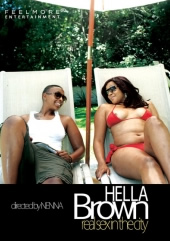 Nenna's carved an impressive niche in the world of queer POC sex — in the Bay Area and cities beyond!
After the huge success of Tight Places: A Drop of Color, she's produced her own next film, once again employing a cast of hot queer POC (cis)women and transmen from Oakland and Los Angeles in Hella Brown: Real Sex in the City. Following the good format of her last film, you get a lot of action out of a small fearless cast, as well as community interviews about porn. I love seeing Brookyn Sky from Nenna's first film, and some familiar CrashPadSeries.com faces too! You can find the DVD online at sex-positive retailers.
[Watch it]



5. Vagina Dentata Glow-in-the-Dark Underwear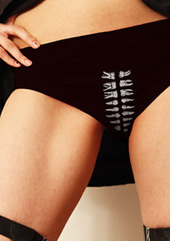 Not wearing underwear is pretty hot, but so is wearing cool undies.
There's a jizillion different designs and patterns you can put on a pair of underwear, and they automatically become a funny or poignant statement, simply because they're on your crotch. Take for example, Melissa Dowell's brilliant Vagina Dentata Glow-in-the-Dark Underwear. When she posted this on Twitter, I hadn't even clicked on the link yet and my fingers were already forming the word "WANT" on the keyboard. Best part, I've got a pair coming and you bet your privates I'm gonna wear them for something sexy soon! Ommn Nom Nom…!
[Wear it]