August Karma Pervs – Femina Potens
What is Karma Pervs? In a nutshell: It's a porn fundraiser. I choose a charity each month – members see sexy photos for a good cause! I post a unique photo set of pictures related to the cause and at the end of the month 100% is donated to the organization. Sign up to support, see pictures, and also enter to win great prizes!
August goes to support one of my favorite art galleries in San Francisco — Femina Potens. It's more like a cultural center than a gallery, and a super sex-positive one at that. Run by porn star Madison Young, the space hosts hundreds of artists and events each year. I value Femina Potens and have always wanted to support them through Karma Pervs. When I got a chance to shoot with N. Maxwell Landers I found the perfect opportunity.
Max has been working on a series called the Blindfold Project, where she takes pictures of different models while she herself is blindfolded. I had a blast with it and wish I could do it again! The shoot challenged me as a model and brought out my movement creativity as well.
Benefiting Femina Potens
Femina Potens, which means "powerful woman" in Latin, conducts multidisciplinary programs that authentically explore the experiences of women, transgendered persons and others living outside the female-male gender binary. Our year-round visual arts exhibitions, media arts events, public arts projects, performances and educational programs explore a wide range of LGBT community issues relevant to the audiences we serve which include queers, women, feminists, trans, genderqueer, genderfluid, intersex, kink community, sex worker community, sex positive community, partners and allies.
Win Prizes!
Trinity Romance's Echo Vibrating Dildo
One lucky member during the month of August will receive a fantastic Echo Dildoby Tantus Silicone. The strap-on dildo is generously donated by TrinityRomance.com, a Canadian high-end sex toy boutique that is socially responsible and has a store culture of fundraising. I'm thrilled they offered this toy because I actually own this same dildo. It feels great and transmits nice bullet vibrations, is easy to clean, harnessable and is great for anal sex, and I also love the white pearl color.
A bumpy ride. Echo's phallic head is multiplied all the way down the shaft, for your pleasure or to resist against, using the protrusions to exercise your P.C. muscles. A staff favourite this elegant silicone vibrator is sure to send shivers down the spine. As with all silicone sex toys from the Tantus line the Echo has some great features. The mini buzz motor can be replaced, or taken out for thorough cleaning. It can also be worn in a harness, and because it's silicone you can boil it to share between users, or cross it between anal, and vaginal while still maintaining the proper hygiene. To increase the power on this vibe match it with the red zinger.
Madison Young's Thin Line Between Art & Sex DVD *Autographed by me!*
This is also a extra special update because I've started adding autographed DVDs to the winners pile. Care of Good Releasing, GoodVibes.com will be donating a DVD copy of Thin Line Between Art & Sex, which I will personally autograph before it is mailed out to you.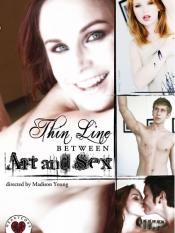 These artists don't just straddle the line between art and sex- they grind up against it, push it, pull it and blissfully blur it. In a one day exhibition, each of them is assigned studio space to explore their erotic aesthetic. Experience their visceral visions with drenched desire in the kitchen, ecstatic climaxes on the staircase and intense orgasms on the rooftop. Creative and carnal energies combine to produce passionate masterpieces. Adult stars Tyler Knight, Daniel, Jiz Lee and Bella Rossi, as well real-life couple Carl Hungus and Naga, discuss their endeavors during interviews that examine the intersection of art and sex. Award-winning director, actress, model and owner of Femina Potens Art Gallery, Madison Young documents the animalistic artistic process and presents it in this explicit work.