Bio – Short Version
JIZ LEE is a genderqueer adult performer straddling genders and porn genres, with over 200 projects from indie and mainstream, American and International porn houses under their belt. In 2010, Jiz was awarded Feminist Porn Award's Boundary Breaker, a defining moment within their exploits in adult. Throughout the years, Jiz has their fingers in a lot of good places: they moonlight behind the scenes at Shine Louise Houston's Pink & White Productions (CrashPadSeries.com, PinkLabel.tv), and run the erotic philanthropic Karma Pervs. It was through pornography that Jiz began writing as a contributor in various web and print publications, from Jezebel.com to the recent academic sensation: The Feminist Porn Book! Talking publicly about porn has also helped Jiz overcome — for the most part! — fear of public speaking; Jiz has lectured at numerous colleges and universities, causing a stir that headlined on Fox News, MSN and UK's Daily Mail tabloid (made it!). Despite the hype, Jiz hopes simply to bring authenticity and diversity to sex in porn, and to help culture more understanding and open-mindedness around sexuality in general. Walking that talk, Jiz is currently taking on their most challenging project to date: coming out to their family about P-R-0-N. The result is a powerful conversation, channeled into their forthcoming anthology: How to Come Out Like a Porn Star: Adult Industry Essays on Family Matters. Ever fascinated by the radical potential of sex, love, and art, Jiz runs a personal blog about sex work as a medium for social activism at JizLee.com.
Quotes
"The emergence of Feminist Porn into popular culture can be attributed in some part to a group of remarkable performers who thrust their reputations, their sex appeal and their politics into the limelight. When very few people were making and producing queer porn, this year's boundary breaker was out in public: blogging, performing and having sex with purpose. Starting their career with an ejaculation scene that knocked the concept of the facial cumshot on its ass… and continuing today to push the limits of gender and sexuality representation in porn, this years 'Boundary Breaker of the Year' goes to JIZ LEE."
- Good For Her, Feminist Porn Awards 2010, presented by Lucas Silveira of The Cliks
"One of the major stars of the 'queer porn' set, Jiz Lee possesses a rare sexual je ne sais quoi."
- AVN Magazine, April 2011
Media Basics
Preferred Gender Pronouns: "They/Them"
Gender/Sexual Orientation: Genderqueer/Queer. Please refrain from the words "Lesbian" or "woman," instead use "queer."
Tags: Jiz Lee, Queer, Genderqueer, Queer Porn, Female Ejaculation, Fisting, etc…
Work: Queer/independent and Mainstream porn, in over 200 films and websites.
Awards/Recognitions: 2006 Feminist Porn Awards' Hottest Dyke Sex Scene, 2008 Feminist Porn Awards' Best Trans Sex Scene, Violet Blue's Top 10 Sexy Geek 2009 Honorable Mention, 2009 Top Hot Butches, 2010 AVN Awards Nominated Best New Web Star, 2010 Feminist Porn Awards "Boundary Breaker", Violet Blue's #7 Top 10 Sexy Geeks 2010, Fleshbot's 2010 Top 10 Crushable Objects, Curve Magazine's 2010 New Sex Culture Curator Finalist, 2011 AVN Awards Nominated Girl/Girl scene and All-Girl Sex Scene, 2012 Feminist Porn Award's Best Website, and Pornsaint.
Questions? Contact: Jiz@JizLee.com
Major Social Networks: Twitter: @jizlee | Facebook
Databases: IMDb | IAFD
Press Photos (click for high res):
Interviews: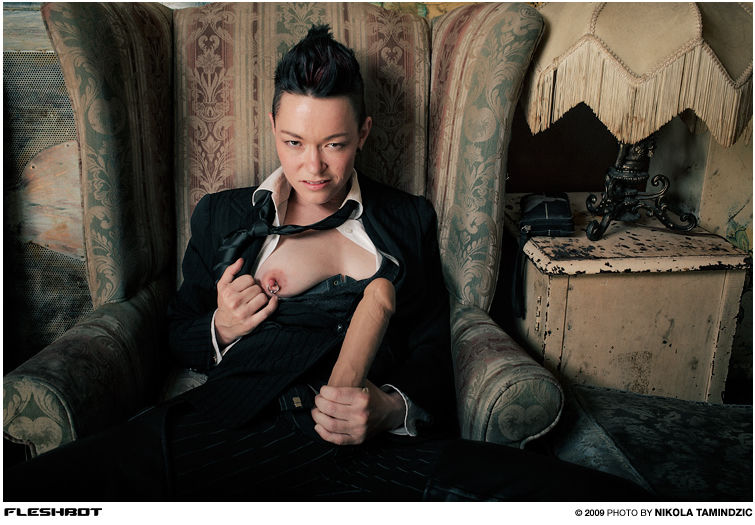 Bio – The Longer Version
With an ejaculation scene that knocked the concept of the facial cumshot on its ass, Jiz Lee unloaded into the revolutionary world of queer porn and adult cinema. As one of the adult industry's few GenderQueer Pornstars, Jiz has appeared in the award-winning films of queer and feminist directors from both independent and LA mainstream such as Shine Louise Houston and Belladonna. The queer performer works in independent and mainstream cinema; appearing in a documentary on comic author Warren Ellis: Capturing Ghosts, and in filmmaker Cheryl Dunye's German-produced raunch-comedy crossover, Mommy is Coming.
Jiz's career started in 2005 with Houston's debut The Crash Pad (Pink & White Productions) which was awarded the Feminist Porn Awards' Best Dyke Sex Scene 2006. Jiz has appeared in approximately 25 released films and a handful of political/art-minded websites. Jiz stared in Houston's 2009 film CHAMPION, awarded 2009 Movie of the Year and nominated "Best Video Feature" in the 2010 AVN Awards. Other films include queer-meets-mainstream hit Belladonna's Strapped Dykes, and numerous titles by Madison Young, Courtney Trouble, and Carlos Batts with muse April Flores. Lee has also worked with Digital Playground's film Cherry 2, written and directed by Kay Brandt, and Joanna Angel's Doppleganger, in sexual education films by Tristan Taormino/VIVID Ed, and with feminist director Bobbi Starr. Lee has appeared under various pseudonyms including "Gauge", "Kaltes Klaris Wasser (Vasa)", and "Beau Flex", and has appeared in Here!TV's Lesbian Sex and Sexuality Documentary Porn Today: Pushing the Limits, as well as Kink.com's series Behind Kink: Uncovering Porn for Pussies, and can be found online in Pink & White Production's highly-acclaimed online queer porn saga CrashPadSeries.com. Lee has since appeared in approximately 200 erotic ventures. Jiz was one of 100 Top Hot Butches, was honored as Violet Blue's Top Ten Sexy Geeks 2010, and is one of Fleshbot's 2010 Top Ten Crushable Objects.
The 2010 Feminist Porn Awards presented Jiz the "Boundary Breaker" award. That year Jiz was also nominated for the AVN Awards Best New Web Star and walked the red carpet packing an 8 1/2″ cock. This year, Jiz launched a philanthropic porn projected called "Karma Pervs" which raises money for rotating non-profit organizations such as STOP AIDS Project, the Center for Sex & Culture, Scarleteen, Lyon-Martin Health Services, SSC Fund, and the St. James Infirmary (a health clinic run by and for sex workers).
Jiz is a contributor of Aorta Magazine (formerly "ART XX"), Good Vibrations Magazine, Carnal Nation, Jezebel.com, and other publications as well as blogging on JizLee.com. The 2011 NYC SexBloggers Calendar featured Jiz and benefited the Woodhull Freedom Foundation. Jiz has been a guest lecturer and panelist at CINEKINK, UC Davis, UC Berkeley, Mills College, Evergreen State, Scripps College, Stanford University, Smith, Williams College, Grand Rapids, and many more, and also sexual education centers such as San Francisco Sex Information (SFSI) Commercial Sex Panel, the Center for Sex & Culture, Long Beach LGBT Center, and CUCCI's Educator's Training in Los Angeles. Topics range from ethical pornography, queer sex tips & techniques, impact play, strap-on sex, fisting, female ejaculation, queer visibility in pornography, Jiz's own experience in the adult industry, and other subjects. Jiz's writing appears in print and online publications such as Jezebel.com, Aorta Magazine, and The Feminist Porn Book, and has spoken on their experiences in queer sexual media at academic institutions from Stanford University to Smith College, events from Writers With Drinks and San Francisco Sex Information training to the Berlin Porn Film Fest and SXSW, and is an Independent Studies Adviser at California College of the Arts.
As an artist, Jiz holds a B.A. in Dance and an extensive background in performance art including collaboration as one-half of the explicit duo twincest (RIP), and performing at venues such as the SF Asian Art Museum, the deYoung, Yerba Buena Center for the Arts, Femina Potens and CounterPULSE. Jiz's work in drag includes posing at Dr. Sketchy's Anti-Art School as Jack the Ripper with Stoya, as Spider Jerusalem in a Transmet Tribute which also appears in the documentary Warren Ellis: Captured Ghosts, and as Ritchie Valens in Rob Fatal's new sci-fi camp horror "La Bamba 2: Hell is a Drag." With a background in web advocacy and arts management, Jiz is also a philanthropist and created the erotic photography paysite Karma Pervs as a creative outlet benefiting sex-positive, queer and kink-friendly non-profit organizations including Stop AIDS Project, St. James Infirmary, and the Center for Sex & Culture. Jiz has been a featured PORNSAINT and has also modeled for New Lesbian Sex Book 3rd Edition with photos by Shilo McCabe, and is an illustrated character in Michelle Tea and Laurenn McCubben's RENT GIRL. Jiz regularly poses for the Center for Sex & Culture's NUDE AID fundraiser, and also has appeared on television (Pink TV – France, HereTV – Logo) and in independent non-sex films and visual art collaborations.
In 2011, Jiz joined forces with director Courtney Trouble to bring awareness to the industry's distribution censorship of vaginal fisting, releasing a scene in the film Live Sex Show shot at the Masturbate-a-Thon with co-star Nina Hartley. Lee is an advocate of fisting, and of uncensored consensual sex. Recent projects include the forthcoming anthology How to Come Out Like a Porn Star, and Jiz Lee's VOID on the new Fair-Trade porn hub PinkLabel.tv with Justify My Jiz.
While mostly known for their onscreen activities, Jiz also works behind the camera for Pink & White Productions' CrashPadSeries.com and other queer porn projects. Jiz was named one of Violet Blue's Top Ten Sexy Geeks, Fleshbot.com's Top Crushable Object, and has received multiple AVN Award nominations, including 2010 "Best New Web Star" and Feminist Porn Award honors including "Boundary Breaker". Ever fascinated by the radical potential of sex, love, and art, Jiz runs a personal blog about sex work as a medium for social activism at JizLee.com.