Category: Karma Pervs
Sold out of holiday cards – check back next December for the new edition.
Introducing this year's Karma Perv Holiday Card image… painted by the incredibly talented (and highly crushable porn performer) INGRID MOUTH!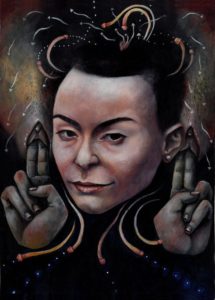 Thank you everyone, for supporting my passions, for paying for porn, and for donating to sex-positive, kinky, eco-sexy, queer and trans-focused non-profit organizations. Through the card's donation drive, we raised a total of $1,270! (Including an extra $20 raised at the Center for Sex and Culture during the Coming Out Like a Porn Star book launch!) Mahalo for making the world a more pleasurable place. Cheers to another trip around the sun.