Right now I'm nearing the half-way mark of a new book, "Feed", by Mira Grant.
It's reminding me how much I love reading, something that I seem to have less and less time for these days. Which means that I have to schedule it into my life and make room for it, something that is hard at first for this workaholic, but ultimately is so satisfying.
I've always found reading to be more inspiring than video; imagination may forever outweigh video's special effects. The scenes from my favorite stories burn deepest in my brain.
Reading is sexy, thus re-iterated by everyone's favorite John Waters quote. What books are on your bedstand? These are mine, and you can submit your own to BooksOnMyBedstand.tumblr.com.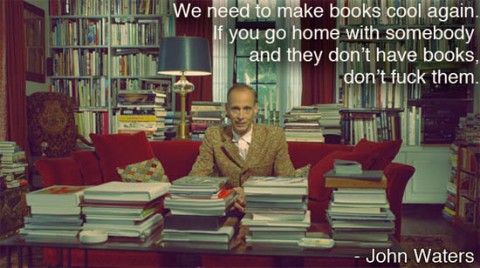 So in the spirit of sexy books, I want to share my Good Reads account. I'm really excited about getting into books again. Making quality time for them. I'd love for you to be my friend on Good Reads, and to recommend books to me, as well as check out my favorites.
I also want to make a point to call out this amazing resource that the Center for Sex & Culture has done with their own profile on Good Reads. What a wealth of resources! I'm going to delve into their lists as I work on "How to Come Out Like a Porn Star". If you haven't had a chance to scope out their physical library here in San Francisco, this goldmine on the web is your next best bet.
Bookworms in solidarity, Jiz.