Good Vibrations Independent Erotic Film Festival 2010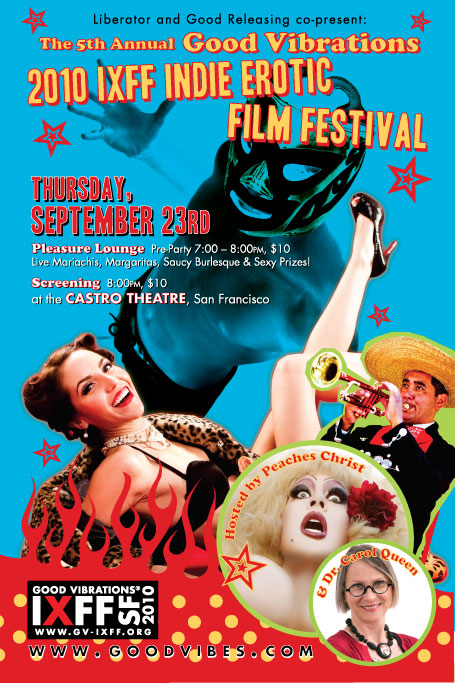 Next week proves to be a busy one in San Francisco's mostly independent porn scene. Good Vibrations (GoodVibes.com) has invited me to be a guest at the slew of panels leading up to the big bang on September 23rd, "The 2010 IXFF Indie Erotic Film Competition". FTM porn hunk Billy Castro and I are going together to the Gay Porn Panel, and my date for the evening will be none other than director, self-defined "arm candy" Cheryl Dunye!
Besides the main event, I will also be in attendance at the panels and screenings. I'm looking forward to seeing Shine Louise Houston as a panel guest at both the Lesbo Retro AND Gay Porn panel — talk about straddling queer porn. I'm also glad I'll get a chance to see Jennifer Lyon Bell again, after meeting briefly at the AVN Awards last year. I've seen a lot of press about the festival events, most recently in the SF Bay Guardian (nice quotes by Maxine Holloway & Lex Sloane!)
The Kick-Off Party should also be a blast. I will be heading there after performing for the Center for Sex & Culture Benefit "Hot Rods & Lube Jobs". All the events look to be a really good time, so I hope to see you there! Here's a list of the action:
Saturday Sept 18th – Kick-off Party at El Rio
Celebrate Good Vibrations' Fifth Annual Independent Erotic Film Festival with a screening of the hottest selections from Reel Queer Productions and HeartCore Films.  Join the filmmakers and talent for a special screening, get rocked by Bay Area faves The Passengers, then get hot and bothered by Amelia Mae Paradise & Diamond Daggers!  Spin to win free prizes from our Wheel of Pleasure and warm up for five days of erotic cinema!
When: Saturday, September 18th
Time: 9:00 pm
Cost: $7
Where: El Rio – 3158 Mission St (@ Cesar Chavez), San Francisco, CA
Sunday Sept 19th – Gay Porn Panel at Nob Hill Theater
Sit back and enjoy a hot collection of steamy scenes from the leaders in gay porn, then find out what's going on in the industry with a fascinating panel featuring directors, stars, and visionaries from Titan, Naked Sword, HeavenlySpire.com (Shine Louise Houston), and Porn Reviewer John Karr.  Following the panel, get hot and bothered with a live performance by Nob Hill Theatre alum and gay superstar Michael Brandon!
When: Sunday, September 19th
Time: 8:00 pm
Cost: $10 from 8-10 (or $30 for full day admission plus panel)
Where: The Nob Hill Theatre – 729 Bush Street (between Mason St & Powell St), San Francisco, CA 94108
Tuesday Sept 21st – Hot Euro Porn at Red Vic
A lush and diverse sampling of artistic European porn and erotica. Decadent, charming, quirky, and hot, these short films blur the line between art and porn. Featuring Matinée, the award-winning explicit erotic drama. Q&A with feminist porn director Jennifer Lyon Bell to follow at the Red Vic Movie House.
When: Tuesday Sept 21st
Time: 8:00 PM
Cost: $10
Where: Red Vic Movie House – Red Vic Movie House, 1727 Haight Street, San Francisco, CA 94117-2807, (415) 668-3994
Wednesday Sept 22nd – Lesbo Retro at the Women's Building
Award-winning, ground-breaking filmmakers Shar and Jackie will present their retrospective clip show of lesbian porn along with hot, funny stories of what it was like to be maverick female filmmakers making lesbian porn by and for lesbians.  Join them for a hot, fun, historical presentation and enjoycomplimentary pizza and beer from our delicious sponsors! Evening includes Special Guest Shine Louise Houston (The Crash Pad, Champion, CrashPadSeries.com)
When: Wednesday Sept 22nd
Time: 8pm
Cost: $10
Where: Womens Building –  3543 18th St. #8 San Francisco, CA 94110 (415) 431-1180
Thursday Sept 23rd – The 2010 IXFF Indie Erotic Film Competition at the Castro Theater
Turn up the heat and kick of the party in the mezzanine at the Castro theatre, where margaritas, Mariachi Tradicion Mexicana, and hot burlesque dancers (Kaleidoscope Cabaret) welcome you to a night of decadence. San Francsico's own Lusty Ladies will roam the party offering their unique delights!
Then head downstairs to see what's hot as international IXFF finalists compete for the audience choice award and $1,500.  The screening will be hosted by indie film queen and drag celebrity extraordinaire, Peaches Christ, along with the fabulous Dr. Carol Queen.  Come see what's hot in 7 minutes or less!
When: Thursday, September 23rd
Time: PRE-PARTY 7:00 – 8:00 pm, SCREENING: 8:00pm
Cost: $10 Pre-party, $10 Screening
Where: Castro Theatre – 429 Castro Street, San Francisco, CA 94109, (415) 621-6120