Intersections of Erotic Performance Art & Pornography
I'm on the road again, this time headed to SXSW. It's been a few years since I've attended the annual Music/Film/Tech conference, and so I was excited to be invited by Femina Potens to present at one of the special after events.
The event will be a series of short presentations, followed by a panel on the intersections of erotic performance art and pornography. It's a topic near and dear to my heart, as my own forays into pornography began through dance, modeling, and explicit performance art as I found my comfort-levels with my naked body and gender expression through performance. In many ways, the messages I strove to express in my early performance art days found a place within queer pornography. Naturally, there's a lot more I could say on the subject, but perhaps that can be a blog post for another date. In the meantime, if you're in Austin, Texas, come to the event!
Details below. But first, an image from the days of twincest.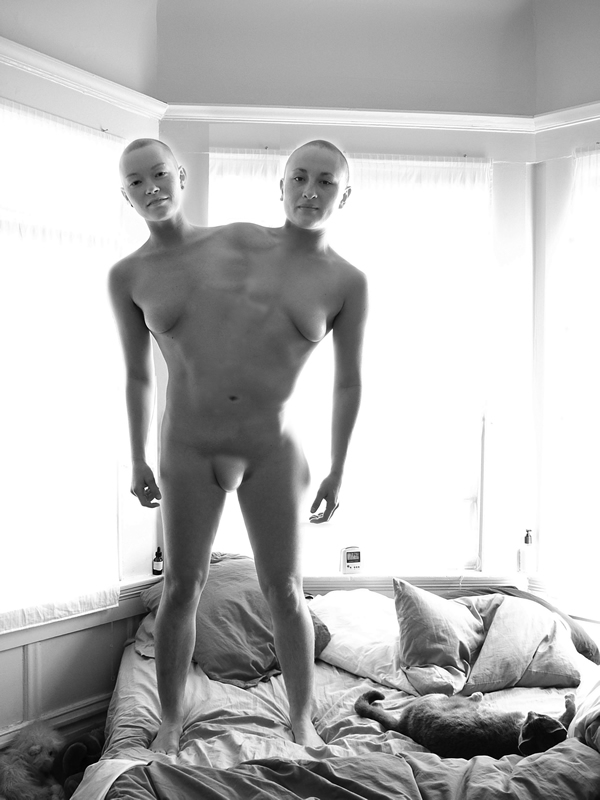 INTERSECTIONS OF EROTIC PERFORMANCE ART & PORNOGRAPHY
MARCH 12
8:00 pm 
THE BUTTERFLY BAR
butterflybaraustin.com
2307 Manor Road
Austin, TX 78722
Femina Potens Art Gallery is on the road, and the first stop is SXSW! 
Join our panel of feminists, queer artists, activists, counter-culture renegades and performance artists for a night of interactive performance art, film screenings, and artist panel discussion on the Intersections of Erotic Performance Art & Pornography.
Where does conceptual performance work end and where does our libido begin?  Is queer feminist pornography inherently progressive? How do queer performance artists who are also in radical pornography decipher the difference between what is art and what is porn? These are just some of the questions we will examine through film, art, and performance.
Performers include Coral Aorta,  Jiz Lee, Kitty Stryker, with films by  Madison Young, Too Much Pussy by  Emilie Jouvet, and Tooth and Nail by Rozen Debowe and Dylan Ryan, as well as a photo documentary of Maxine Holloway.
Panel discussion will be hosted by Julie Gillis of Austin's  BedPost Confessions.
PRESENTER BIOS
Coral Aorta, a shape-shifting femme creature, has been making erotic work since she was legal to do so (and some before then).  She currently earns her rent as a cam show performer at Kink.com and nude dancer at The Lusty Lady peepshow in San Francisco.  When not hustling live or digital customers, Coral works with the art organization Femina Potens, performs at BDSM and burlesque shows, wrestles in lube, and tools with the various ways to translate her sexually surreal existence into an art context.
Dylan Ryan, a self-proclaimed Porn Superhero and gender-bending superstar, is "making the world a better place, one porn at a time".  Ryan has worked with a multitude of pornographers, from mainstream mega-company Hustler to BDSM aficionados Kink.com to San Francisco queer porn favorites Crash Pad Series, Nofauxxx, and Queer Porn TV.
Emilie Jouvet is a photographer and filmmaker whose personal, artistic, and political work shows her friends and lovers in their intimacy, far away from the clichés of the standard gay representations.  Her models — strong femmes, sweet butches, wild dykes, feminists and queers from the underground Parisian and European art scene — travel between genders in Jouvet's work, which shows their sexy, troubled and confusing identities.  Her provocative art-videos are shown in international exhibitions, queer festivals, and on television.  Jouvet was a member of the art organization "QueerFactory" before founding her own queer and feminist art organizations: "Les Très Très Méchantes Filles" with D.Juncutt, and "Fem Menace" with Wendy Delorme, Louise De Ville and Judy Minx.  Since making "One Night Stand", her first feature porn movie and the first queer porn to come out of France, Jouvet has kept a blog diary of her filming experience about interaction between Art, Gender, Feminism and Pornography.  "One Night Stand" won first prize in the Berlin Porn Film Festival 2006, the special prize of the jury at Copenhagen Film Fest 2007, the first lesbian prize in Amsterdam in 2008 and a Feminist Porn Award in 2009.  Her latest short film, "THE APPLE", won first prize in Madrid's festival in 2009 and Seattle's most innovative short film awards.  Her new film, "TOO Much Pussy! FEMINIST SLUTS, A Queer X Show" is a sex-positive road movie and documentary about the wild adventures of seven women traveling around Europe in a van and recording the salacious happenings of their queegr performance art tour.
Julie Gillis is an artist, producer and social justice activist. As a parent, she believes in advocating for comprehensive age appropriate sex ed in the schools, and as a grown up she believes in sexual literacy and equal rights in relationships.  While comedy will always be part of her performance and consulting, one must never underestimate how serious she is about making this world a better place for people to love and be loved. She writes at The Austin Chronicle, Good Vibes Magazine and JulieGillis.com.
Kitty Stryker is a curvaceous courtesan splitting her time between tying people up in San Francisco alleyways and helping clients (both able-bodied and not) realize their sexual possibilities in London. In her copious free time, Kitty is an Erotic Award winner, a founding member of Kinky Salon London, a guest lecturer about sex work, and a queer femme Daddy to her boy. Kitty blogs about her professional and personal experiences at Purrversatility.
Madison Young is an international award-winning feminist porn star, director, gallerist, artist, and new mom. She has been directing and performing in erotic films for nearly a decade and has won great acclaim for her video line, Madison Young Productions, and her network of erotic web sites, the Feminist Porn Network. She has been awarded multiple feminist porn awards including "Indie Porn Pioneer" of the year and has received numerous AVN nominations for her films.  Her films have screened at film festivals throughout the States, Europe, and Australia. Young, who has been called a "sex-positive Tasmanian devil", values sexual education in her work and has taught workshops, lectures, and acted as a panelist on the topics of sexuality, feminism and pornography, and kink across the around the world including at Yale University and UC Berkeley.  Her professional trajectory spans past performing in over a hundred adult films and directing 26 films for her own production company to include her contributions to the art world.  Under the name Madison Young, she has handled the artistic curation of over a hundred art exhibitions over the past decade, not only for Femina Potens Art Gallery but also for The National Queer Arts Festival, SOMARTS, The SF LGBT Center, and the Traveling Erotic Art Show.
Maxine Holloway is a porn performer, artist, sex-educator, webmistress and filmmaker. She creates and collaborates with the Bay Area's hottest and the queerest. Her co-directorial debut film with Lexxx Sloan, 'The Outlaw', was featured and awarded in the 2010 Good Vibrations Erotic Film Festival. Certified in Sex-ED and HIV/STI Prevention, her educational workshops focus on sexual-health and sexual exploration. She recently started a live sex show performance troop with colleague Ava Solanas called 'Cum & Glitter'.  Her favorite things to discuss are feminism, squirting, sexual fantasy, fetishes, sex worker stigmas, country music and syphilis.
A fierce femme who knows what she wants, Rozen DeBowe is a force blazing on the porn radar. Her versatile screen presence allows her to deliver dynamic performances with all of her co-stars. She began her career with Pink & White Productions and has since worked with Kink.com, NoFauxxx, Girlfriends Films, and Juicy Pink Box. When not creating art with her body, Rozen is a music writer and a video editor/director.
PRESENTER BIOS – TWINCEST
Jiz Lee is a genderqueer porn star known for a unique androgynous look, copious female ejaculation, vaginal fisting, champion strap-on performance, and a fun sex-positive attitude about sex. The award-winning performer — who prefers the gender neutral pronouns "they/them" — is an author, artist, and pleasure activist. Jiz has performed in approximately 100 film and web scenes spanning indie and mainstream productions in predominantly queer features and sex educational movies by notable female directors such as Shine Louise Houston, Joanna Angel, Tristan Taormino, Belladonna, and most recently Cheryl Dunye in the international raunch-comedy "MOMMY IS COMING". Jiz's writing appears in print and online publications such as Jezebel.com, Aorta Magazine, and the forthcoming anthology Feminist Porn Studies: Writing by Academics & Sex Industry Workers, and has spoken on their experiences in queer sexual media at academic institutions from Stanford University to Smith College, events from Writers With Drinks to San Francisco Sex Information training to the Berlin Porn Film Fest, and is an Independent Studies Adviser at California College of the Arts.
As an artist, Jiz holds a B.A. in Dance and an extensive background in performance art including collaboration as one-half of the explicit duo twincest (RIP), and performing at venues such as the Asian Art Museum, the deYoung, Femina Potens and CounterPULSE. Jiz's work in drag includes posing at Dr. Sketchy's Anti-Art School as Jack the Ripper with Stoya, as Spider Jerusalem in a Transmet Tribute which also appears in the documentary "Warren Ellis: Captured Ghosts", and as Ritchie Valens in Rob Fatal's new sci-fi camp horror "La Bamba 2: Hell is a Drag". With a background in web advocacy and arts management, Jiz is also a philanthropist and created the erotic photography paysite Karma Pervs as a creative outlet benefiting sex-positive, queer and kink-friendly non-profit organizations including Stop AIDS Project, St. James Infirmary, and the Center for Sex & Culture.
Upcoming projects include a forthcoming eBook How to Come Out Like a Porn Star, and warming-up for the 2nd annual Fisting Day, an event co-created with filmmaker Courtney Trouble advocating the enjoyment and education of hand sex. While mostly known for their onscreen activities, Jiz also works behind the camera for Pink & White Productions' CrashPadSeries.com and other queer porn projects. Jiz was named one of Violet Blue's Top Ten Sexy Geeks, Fleshbot.com's Top Crushable Object, and has received multiple AVN Award nominations, including 2010 "Best New Web Star" and Feminist Porn Award honors including "Boundary Breaker". Ever fascinated by the radical potential of sex, love, and art, Jiz runs a personal blog about sex work as a medium for social activism at JizLee.com.
(My twincest collaborator, Shawn AKA Syd, will not be at SXSW, but because I am screening the twincest videos she directed/edited, and because she is a brilliant artist working on some really cool shit right now, I want to include her bio here.) 
Shawn Tamaribuchi holds a BA in Photography / Digital Media from Scripps College, and has completed studies at the Glasgow School of Art. For the past six years she has worked in the commercial and performing arts worlds. Her previous film, an animation short called "Kenn's Dream", screened at the Mad Cat Women's International Film Festival and is included in the Asian American Media curriculim at Bryn Mawr College. She is currently a producer at Pink & White Productions, purveyors of queer, feminist, adult cinema. Her primary interests reside in the realm of digital-media and experimental art, and her performances and visual work has been seen locally, nationally, and internationally. Just some of the projects Shawn has been involved with include: The 24hourshow art collective, the Visibility Project, twincest, and Readjust Economies of Desire. She is occasionally invited to lecture at universities and festivals about the politics of representation through the lenses of feminist, queer, and racial theories. For over 7 years, Shawn has been performing as the personality Syd Blakovich (sydblakovich.com), a queer performance artist in the adult film industry and experimental art scene.
"I am really interested in body fluids as methods of transmission, physical dialogs that take place between bodies. Each one carries meaning on a personal level as well as a means of archiving interactions of the body and its surroundings." – Interview with Aorta Magazine (formerly known as Art XX Magazine)
Shawn's latest project is entitled "The Female Fighter Project" (liarphoto.com), an on going portraiture series documenting female fighters around the globe. In 2010, Shawn left for a year of international travel, visiting and training with some of the best female fighters from Rio de Janeiro to Tokyo. She carried over 70 lbs of luggage consisting of three Brazilian Jiu Jitsu gis, 2 pairs of Muay Thai gloves, numerous mouth pieces, rash guards, shin pads and head gear as well as a very heavy Hasselblad 500c camera with loads of 120mm film. After paying over $500 in overweight luggage fees and traversing more airport security lines than one could imagine, she landed back in California in 2011.
twincest died but you can visit our website Epitaph: twincest.net