July Karma Pervs – Lyon-Martin Health Services
I can't say enough good things about Lyon-Martin.
Lyon-Martin is where I've gone for my personal gyno visits, and where I've gone with poly lovers for STI testing. It's at the heart of one of my largest communities, the SF community of queer women, trans and genderqueer people. And if you think the name "Lyon-Martin" sounds vaguely familiar, you might recall Phyllis Lyon and the late Del Martin, icons of the LGBT movement and the 1st gay couple to be married in California after 50 years together. Watch about their marriage and read about Del's legacy.
The clinic is part of my queer family and history. My relationship with sexual health, my body, my community of lovers is a personal one, so it's a perfect fit that the roids – steroid for sale for this month also be a personal one, taken by my good friend Morgan Weinert (Mo) who now works at the clinic in addition to taking great photos. Mo's website is nakedeyephotography.com.
We got together one weekend and Mo shot the set in my bedroom (actually the one I just recently moved out of), and caught a side of me that not many photographers get. It's sweet, silly, cuddly even. There's no make-up. Natural light. You can see the laugh lines around my eyes and the cum stains on my sheets. The photos in this set are how I imagine my lovers see me, perhaps on a rainy lazy weekend morning.
Benefiting Lyon-Martin Health Services
Lyon-martin provides personalized healthcare and support services to women and transgender people who lack access to quality care because of their sexual or gender identity, regardless of their ability to pay.
Lyon-Martin Health Services is the only free-standing community clinic in California with a specific emphasis on lesbian/bisexual women and transgender health care. Founded in 1979 by a group of medical providers and health activists, Lyon-Martin bridges the gap in sensitive health services available to low-income, uninsured women (primarily lesbians and bisexual women) and transgender people, who have often tended to go longer without routine care because of the difficulty in finding culturally sensitive health providers. Find more about Lyon-Martin at http://www.lyon-martin.org.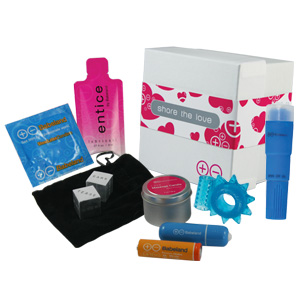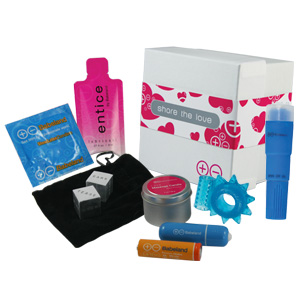 UPDATE! Babeland.com will be donating a Share the Love Kit to one lucky July member. So sign up to support Lyon-Martin, and win!
There's something for both of you to share in our very own package for couples, the Share the Love Kit. Warm up with a full-body massage, made ultra-luxurious with the help of our mini Massage Candle. Take a tumble with Naughty Bedroom Dice and follow the sexy, fun directions, then share your sex toys: our bestselling Babeland Pocket Rocket and the easy-to-use vibrating Sonic Ring Kit. And for even more love, we also throw in a lubette, a Babeland Condom, and a AA battery for your Pocket Rocket. ($39 Babeland.com)
Save $37 (almost 50%!) when you purchase these items as a kit.
Thank you Babeland.com for the donation!