"La Bamba 2: Hell is a Drag" Fundraiser
I'm playing Ritchie Valens in a sci-fi, horror, campy, avant garde, trash sequel to the Chicano film classic, LA BAMBA! Directed by Rob Fatal. Actually, I'm playing a drag version of Lou Diamond Phillips playing Ritchie Valens in La Bamba (based on the story of popular teen singer born Ricardo Esteban Valenzuela Reyes.) The film stars a rad band of friends and artists of the California College of the Arts infamously known as "The Piñata Brigade" and it's going to be balls-to-the-wall brilliant.
Here's more info about the film, which is now in production (more photos coming soon!). Throw down a few dollars, there's lots of fun perks.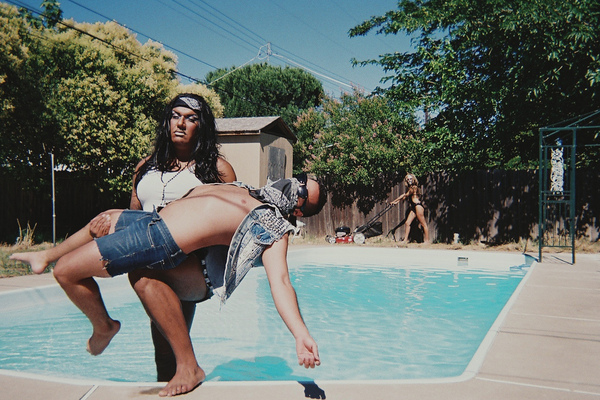 The Story
La Bamba 2: Hell is a Drag is a camp, trash, sci-fi, horror, avantguarde, DIY dark comedy sequel to the 1987 film La Bamba. The film is set 62 years after the ending of original La Bamba and centers on the journey of artist Rob Fatal [played by up and coming burlesque dancer extraordinaire Tara Lihn], an obsessive fan of Ritchie Valens [played by queer performance artist/scholar/adult actor Jiz Lee].
On the Day of the Dead 2021, Fatal is pulled into the underworld by Donna, Ritchie's girlfriend in life, who tells Fatal that Ritchie has been kidnapped by a band of jealous rock stars. Fatal, Donna and the Valens family including Connie, Bob and Rosie [played by the neo-Chicano art collective the Piñata Brigade] set out on a mission to rescue Ritchie while encountering along the way a barrage of challenges that put to the test the constructs of domesticity, gender, fantasy, celebrity, sexuality, high art culture, violence and obsession.
The Impact
La Bamba 2 is a collaborative film effort from a band of social minorities: women, queers, ethnic minorities. We aim to put our confrontational vision back into the world; to turn a mirror on the world whose structures and policy aim to hold people in a constant state of self-doubt, self-questioning, normality. Particularly as a work of Chicano film, La Bamba is a missing voice. In the 1980 and 90s, the only representation of any queer or gay people in predominant Chicano film was in the violent rape scenes of prison movies like Blood In Blood Out (1993) and American Me (1992).
In the last few years films like La Mission (2009) and Gun Hill Road (2011) have put the topic of queer/trans/gay in the forefront of the Chicano film and as such in the forefront into the minds of the Chicanos [well, those who have actually seen the films]. Still though, these films' stars are straight Chicano men dealing with the problem of gayness or queerness in their lives. And while they eventually come to terms with their children's queerness in the film and kind of begin to love and accept their kids for who they are, it is usually after some violent, rage, gun shooting, crazy gang related shit, blah blah blah.
La Bamba 2 is perhaps the first queer-made Chicano film. Definitely the first avant-garde, underground Chicano made film. La Bamba 2 is very simply making history and re-visioning history, present and future. Building from filmic works including Pink Flamingos (1972), Flaming Creatures (1963), Holy Mountain (1973), Hold Me While I'm Naked (1966), A Clockwork Orange (1971), Plan 9 From Outer Space (1959), The Rocky Horror Picture Show (1975), Suspiria (1977), Mi Vida Loca (1993), Un Chien Andalou (1929), The Watermelon Woman (1996) and The Cabinet of Dr. Caligari (1920), La Bamba 2 is a personal work that opens and extends the conversations of queer and minority identity in film, surrealism, trash, camp, and genre deconstruction. The film is also just plain funny, scary, and damn beautiful.
Help us reach this goal by Halloween! Pssst… my birthday is October 30th, so consider it a birthday present! Your money will, in all honesty, help etch a new era in Chicano film and a new voice in radical underground cinema.