October Karma Pervs – Scarleteen
What is Karma Pervs? In a nutshell: It's a porn fundraiser. I choose a charity each month – members see sexy photos for a good cause! I post a unique photo set of pictures related to the cause and at the end of the month 100% is donated to the organization. Sign up to support, see pictures, and also enter to win great prizes!
This month, I asked artists to send in work, to be collected as an update. I asked because it is my birthday this month (October 30th) and I like drawings. I used to draw when I was young and would sketch sexy pictures. Though I don't draw much any more, I admire those who do, whether through pen, digital media, or embroidery such as Kira Scarlet's work below.

Image (original) made by Kira Scarlet of Scarlet Tentacle (www.eroticlinens.com). Hand embroidered embroidered design on recycled cotton blend measuring 5″ diameter.
This Karma Pervs update is a few days late because I got swept up in a crazy momentum of traveling to NYC to celebrate the launch of the NYC Sex Blogger Calendar with Nina Hartley, IMsL 2010 Mollena, and many beautiful others. I had a great time out there, toasting with friends in the industry, crushing on sexy outspoken people of many genders and sexual orientations. The next day I shot some nudes with Ellen Stagg and rooftop kink with my "partner in porn" Dylan Ryan for Aeric Meredith-Goujon. The sun shining, I arched my body towards the river and felt on top of the world. Life is pretty darn good. I'm grateful for the supportive community I've found and have connected with online.
I'm grateful for a history of overcoming oppressions, for courage resulting in a growing culture of sex positivity, education, and respectful dialog, and resources, too.
When I first started trolling the internet seeking sex, as one does, I started to notice that next to all the "18+" enter buttons were these little "Underage" exits which linked to Scarleteen.com.
Despite the fact that I didn't want to "exit" (I mean, who really does that?) I nonetheless found myself curious and clicked over to Scarleteen a number of times over the years. And I still click over, even though I am no longer a youth. A comprehensive sex resource, it's a great place to explore and learn. This year I also bought two copies of the book S.E.X. by Scarleteen founder Heather Corinna, for my teenage brother and sister, which includes the passage: Genderpalooza: a Sex & Gender Primer.
With all of the devastating news of suicides of gay/gender-variant teens throughout the country, I feel stronger than ever that our culture needs better sex ed — that youth would be well-equipped with knowledge about sex and gender through a sex-positive education which doesn't shame or ignore minority sexualities or gender expressions. Through online actions by the sex community, including projects such as Sex Columnist Dan Savage's It Gets Better YouTube video channel project, and The Trevor Project Hotline, National media has picked up the stories. This is a great stride in the effort, considering the statistical average of teens use of the internet and of television consumption. Many people believe what they see, so the more we affirm queers, the more our lives are validated.
About Scarleteen

Scarleteen has provided progressive, comprehensive & inclusive real-world sexuality education, information and support for millions of young people worldwide since 1998. Heather Corinna says, "every day, Scarleteen provides opt-in, progressive, inclusive and comprehensive sexuality, sexual health and relationship information, support and advice to around 25,000 readers and users around the world. We do that via static articles as well as interactively: via advice columns, our message boards and our text service. There are also some offshoots of all of this, like the local outreach work I do, my book, and other projects we help with. Because we're mostly online, we can serve users who have sex ed in school already but want more (or want something different than they got), who don't have comprehensive sex ed in school, or who aren't in school at all, either because they homeschool or because they don't get any kind of schooling, which is the case for millions of teens and twentysomethings all over the world every year." You can read more about Scarleteen, send donations, or bookmark: Scarleteen.com.
Artists for the update include:
Kira Scarlet, Jeffer, Henri "Ace" Cheramie, James Dale, Paige, and Suzanne Forbes (who drew images of me and co-star Papi Coxxx while we filmed a scene!). Thank you artists!
Win Prizes!
Madison Young's Thin Line Between Art & Sex DVD *Autographed by me!*
I'm offering another DVD of "Thin Line Between Art & Sex". Care of Good Releasing, GoodVibes.com will be donating a DVD copy of Thin Line Between Art & Sex, which I will personally autograph before it is mailed out to you.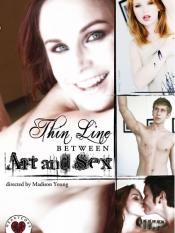 These artists don't just straddle the line between art and sex- they grind up against it, push it, pull it and blissfully blur it. In a one day exhibition, each of them is assigned studio space to explore their erotic aesthetic. Experience their visceral visions with drenched desire in the kitchen, ecstatic climaxes on the staircase and intense orgasms on the rooftop. Creative and carnal energies combine to produce passionate masterpieces. Adult stars Tyler Knight, Daniel, Jiz Lee and Bella Rossi, as well real-life couple Carl Hungus and Naga, discuss their endeavors during interviews that examine the intersection of art and sex. Award-winning director, actress, model and owner of Femina Potens Art Gallery, Madison Young documents the animalistic artistic process and presents it in this explicit work.