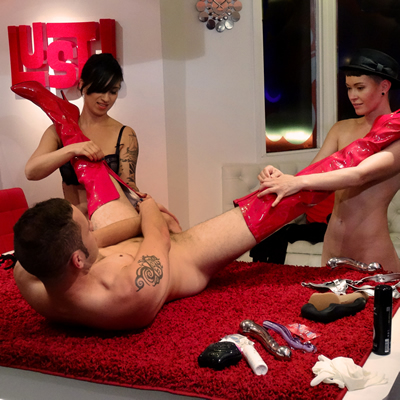 Winner of numerous Feminist Porn awards and producer of the HER PORN film series, UK-based pornographer Petra Joy has established leadership in Europe's porn-for-women market. So, it was with great excitement — and slight trepidation — that we got together over Skype to discuss the possibility of working together. After seeing my gender-bending film Justify My Jiz with Wolf Hudson, and sharing our erotic fantasies, we decided to give it a shot! Petra took a risk in casting outside the traditional cisgender realm to pair genderqueer me, with gender playful Wolf Hudson, and the sexy-as-hell Liandra Dahl .
Our scene was highly erotic. When Petra asked us to work with a slow and sensual build-up, we filled her videographers' cards with hours of organically paced, orgasmic sex. Being greedy, I took FULL advantage and we gave her some hard decisions in the editing chair. It was a brilliant shoot, and Petra was respectful of my pronouns, negotiating the title and description to find an inclusive fit for her market. I hope the experience brings joy and discovery to new audiences.
Description: (S)he Comes is the latest erotic creation from award-winning director Petra Joy. The film features five new exciting scenes of authentic lust and sensual passion: from hot couples that fulfil each others' every desire to an explosive male solo and a passionate threesome – (S)he Comes is an inspirational movie where women call the shots and the (multiple) orgasms flow freely. She comes, he comes, they come!
Stars: Jiz Lee, Liandra Dahl & Wolf Hudson
Watch online at HotMovies.com (DVD available at PetraJoy.com)