Promote the Positive — Body-Positive!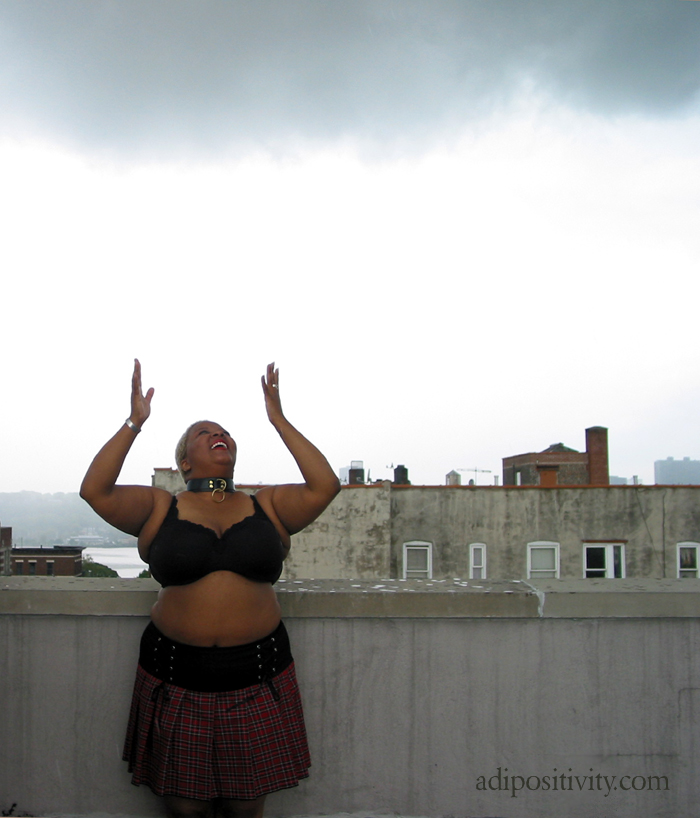 Photo: International Ms Leather 2010 Mollena via www.adipositivity.com
There's a womens' magazine with an article up right now that is inexcusably cruel. I wont get into the details as I'm sure you've all seen it. It is offensive, and happens to be driving incredible traffic. If you don't know what I'm referring to, you will soon as a growing number of blogs and gossip sites are picking up the story (basically re-posting the article in its entirety). While I'm grateful for those commenting on the article and speaking out about it, I also think it's unfortunate that the article is getting so much attention when so many body-positive websites could use the hits.
I've come across a few sites, such as adipositivity.com, and know of a number of body-positive porn sites which I've listed below. To come up with more, I asked people via Twitter and Facebook what body-positive websites they loved, and here's a list. Please visit each site, and also feel free to comment and add more websites which treat people of all body types and abilities with respect.
NSFW sites that do not discriminate their models based on body size:
April Flores' website aka Fatty D who blogs her reactions and progress in the industry, and her husband Carlos Batts
paddedkink.com by Kelly Shibari
crashpadseries.com and HeavenlySpire.com by Shine Louise Houston/Pink & White Productions
nofauxxx.com by Courtney Trouble
Cocksexual.com by FurryGirl
Good Releasing
Trannywood
And many others — queer porn tends to be as diverse with body shapes, sizes and identities as it is with gender expressions.
Other sites online (may or may not include NSFW content):
bfdblog.com – @aych
tangledupinlace.tumblr.com – @MollyRen
hikarikesho.com – @CanadiaJulie
bodypositive.com– @CanadiaJulie
kateharding.net – @CanadiaJulie, @ohbettinadear
rmichelson.com – @CanadiaJulie
fatso.com – @CanadiaJulie
@vaginapagina – @CanadiaJulie
Sexuality Happens – @Shanna Katz
heyfatchick.tumblr.com – @cand86
sugaredvenom.tumblr.com/fatfollowfriday – M
thebeautifulkind.com – Sex positive community where people can get advice, share their experiences, and learn a thing or two from TBK, a bonafide sexgoddess.
queershoulder.tumblr.com – Author and educator Gina De Vries
lillianbehrendt.com – @jeffersaurusrex – My Unacceptable Body: Fat Acceptance and Commentary.
sexisnottheenemy.tumblr.com – Lucy D – Tumblr post spanning sex and gender.
curvesahead.tumblr.com – Lucy D – The Natural Female Form: we come in all shapes and sizes. we take submissions! send photos of yourself.
thetummyproject.com – Lucy D – A blog about body empowerment and the sexiness of a beautiful natural tummy, no matter what size.
TheINQUEERY.com – @mebrandonb – aimed at gay biological-men but covers issues of acceptance, safety, and enhancing ones pleasure based on personal exploration and discovery.
men-in-full.livejournal.com – @MollyRen
And a great list from @MissJoeyFoxx
makeshiftmag.com – Make/Shift Magazine documents feminisms and issues (@makeshiftmag)
Audacia Ray – Sex positive former sex worker and blogger/educator (@audaciaray)
corpulent.wordpress.com Terrific fat/body positive blog (@awesomefrances)
adipositivity.com – Enormous photography collective aiming to increase body positivity/fat acceptance.
casagordita.com – Encyclopedia of body positive/fat acceptance links, many in art form.
sexademic.wordpress.com Informative and humorous sex-positive blog (@thesexademic)
trans-positive.tumblr.com – Pictures of diverse trans people with their experiences and stories.
She also recommended the play Panza Monologues (Latinas talking about how they experience their bodies).
Thank you so much everyone who replied with suggested websites. I am already having a hard time hitting publish because I know I am missing WAY too many websites — please comment with more!
UPDATE: Posts by glittergeek.tumblr.com, Sophia St James, and Gina De Vries.