Today people across the internet are encouraging one another to wear the color purple as a visual statement bringing awareness to the recent suicides of bullied queer/gender-variant youth. Even companies — especially ones with young demographics such as Tumblr's purple dashboard — are getting involved.
Besides donning the color purple, I'm interested in additional ways to find a solution. I'm grateful that GLAAD.org posted "Wear Purple on October 20th for Spirit Day". I've also checked out lots of great projects including a hotline called The Trevor Project and Teaching Tolerance, by Alec Mapa's husband. Another project that succeeded in catching some media attention is Dan Savage and his partner Terry's It Gets Better project. There's also sex ed resources including S.E.X. The All-You-Need-To-Know Progressive Sexuality Guide to Get You Through High School and College by Heather Corinna. I bought two copies for my siblings.
When I first heard about the suicides, I decided that the next Karma Pervs fundraiser was going to be for youth. I think the more educated teens are about sex and gender, the better all kids will have it  — the ones bullied, the ones doing the bullying, and their peers who witness it. The obvious answer for me in terms of sex and gender resource for youth is Scarleteen.com, a sex education resource for youth. I should say, THE sex ed source for youth because there's really not a whole lot out there that covers nearly as many topics as well as Scarleteen does.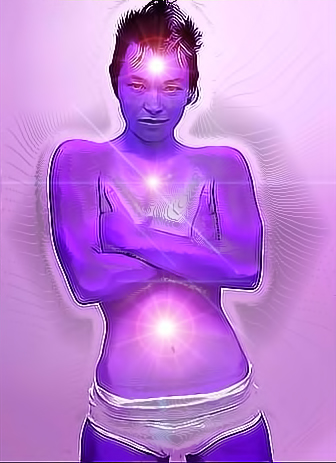 Traditionally, Karma Pervs updates are photo sets, however this month the update is a collection of fan art, such as the image here done by Drew Patrick from a photo manipulation of an original image from The Crash Pad. The image here fits perfectly with today's theme. My decision to choose Scarleteen also came with perfect timing as there is a blog-a-thon right now as a way to bring awareness and donations to the much needed site.
Check out the Scarleteen Blog-a-Thon entries on AAG's blog and donate directly through Scarleteen, or via a very artsy edition of Karma Pervs. Wear purple or do purple, in whatever way you choose… today and everyday.