A friend handed me a flier today with a great way for folks to express their anger about not being seen as equal. You know how some people are saying that they wish they could have their tax money back? No Taxation Without Representation, etc? Well, you might not be able to get your Benjamins back, but you can give a queer eye to the capitalistic eye to prove your point.
QUEER your MONEY.
As involved and participatory citizens of California (or elsewhere), the queer community has a significant amount of fiscal power. As wage-earners, tax-payers, and consumers, if we chose to remove our money from the system, the economy would suffer. The annual Pride celebration alone is a huge money-maker for the state every year. The government has no problem taking our money but continues to deny us equal rights.
Let your money carry the message.
Prove that we are an active and vital part of California.
Draw, Stamp, Print, Sticker*, Bedazzle*…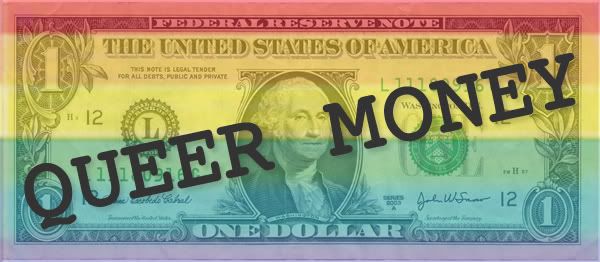 *I personally don't recommend Sticker-ing or Bedazzling because as fly as it would look, it wouldn't let the bills circulate through vending machines, etc… we want everyone to see how gay our money is!