Queer Porn TV – You are a Queer Porn Star (Yes YOU!)
A benefit for a porn company? Perhaps one of the many differences that singles out queer porn and other adult genres. A sense of community, identity, and striving for representation and sexual empowerment.
Tomorrow I'll be dishing out body shots (whether it's tequila or a slap in the face it's up to you) at the kink booth for QueerPorn.tv's "You are a Queer Porn Star" fundraiser at El Rio.
Now, while I think that there's a difference between a "porn star" and a "porn performer" — which some relate to the number of shoots someone has done, or their notoriety — I LOVE the idea that you, me, and everyone we know can be a star, that it's all in the attitude, porn is OURS to own, and as queers we have the power to own it. To be sexual exhibitionists, to make DIY pornography, to hustle out there as performers, to be worth it.
And to celebrate! Please come. Here's the facebook event announcement and a very cute flyer of James Darling and Wolf Hudson. Hubba hubba.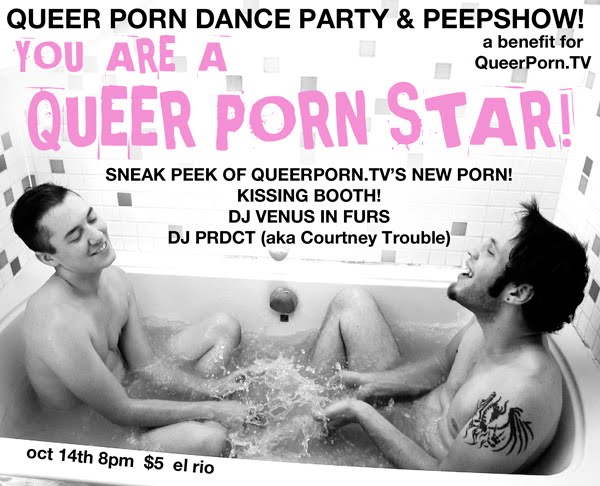 What is Queer Porn TV?
QueerPorn.tv is an upcoming porn site by Courtney Trouble (of nofauxxx.com fame) and her cohort Tina Horn. They say the launch date will be as early as next month. I will definitely be posting about it when it launches. Until then, they've started posting free content such as profiles, blog posts, and interviews to the site. I did a star profile and interview with them during my time on set to shoot with the lovely Papi Coxxx.
While I feel much more comfortable articulating my thoughts via this blog, I think I did an okay job in this interview. It's a bit on the long side, but I hope you'll watch. I always feel after a video interview that I left out a million things, so let me know if you have questions or feedback.