Here's a collection of membership websites and video-on-demand scenes I've appeared in. Many of these websites are independently run, female/queer-directed, and display ethical set productions. You can also find many of these scenes on Hot Movies and Pink Label. Great for instant viewing!
The Crash Pad Series – Pink & White Productions
CrashPadSeries.com – EXCLUSIVE behind the scenes, frequent video episodes and photos
Additional Sites
HotMoviesForHer.com Video on Demand
Jiz Lee, Syd Blakovich & Bella Vendetta
Jiz Lee & Mickey Mod (not yet posted to website)
Pink Label (fair-trade, ethical porn hub for independent and emerging adult filmmakers)
Indie Porn Revolution (Formerly NoFauxxx.com)
QueerPorn.TV – by Tina Horn and Courtney Trouble
EnterBelladonna.com – Videos, Photos and behind the scenes from Strapped Dykes
Jiz Lee & Belladonna
Jiz Lee, Sinn Sage, Syd Blakovich
Jiz Lee & April Flores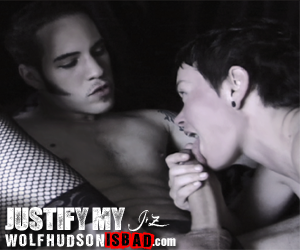 Wolf Hudson is Bad – Strap-on Genderbending Scene
BlueBlood.com -Photos by Amelia G. and Forrest Black
Jiz Lee & Courtney Trouble – Shower
JuicyPinkBox.com – Juicy Pink Box
Jiz Lee, Nic Switch & Madison Young (TAXI 1)
Jiz Lee & Madison Young (TAXI 1)
Jiz Lee & Dallas (TAXI 2)
CrazyBabe.com -Photos by Bob Coulter
Joanna Angel's BurningAngel.com
Jiz Lee & Joanna Angel (Fuck me, not my doll – Doppelganger)
Jiz Lee & Joanna Angel – (Joanna Angel Exposed)
Jiz Lee & Joanna Angel – (Joanna Angel Exposed Disc 2)
Jiz Lee POV James Deen & Joanna Angel (Joanna Angel Exposed)
Jiz Lee & Kelly-Anne Chaos (Eat Me Out)
StaggStreet.com – Photos by Ellen Stagg
AEBN – Mainstream porn VOD site, where you can find some of the mainstream films I've done.
SweetSinner.com – Sinderella and Me: Scene 1 (with Dylan Ryan, Jiz Lee, and Wolf Hudson).
EvilAngel – Vicarious with Bobbi Star and Strapped Dykes with Belladonna.