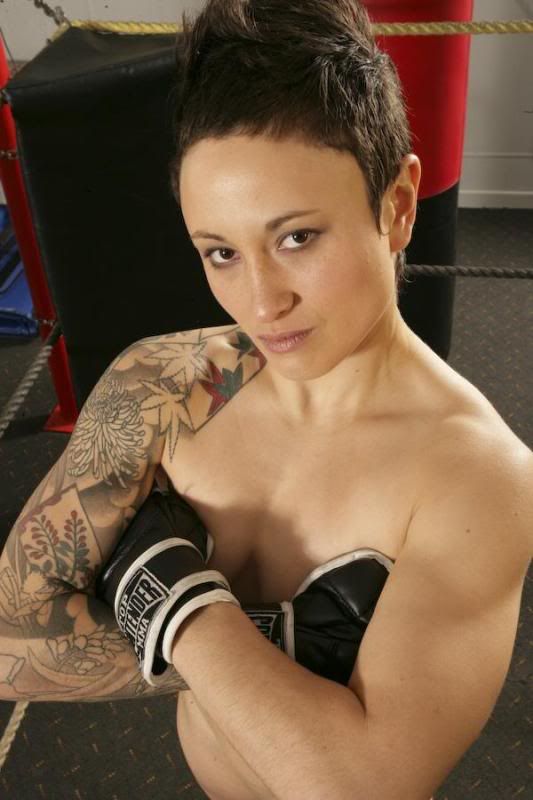 Who IS this hottie!?
Why, it's none other than Syd Blakovich (whom many of you know as Shawn from Pink & White Productions) who plays "Jesse" in the upcoming film Champion.
I've been star struck with this gorgeous genderqueer stick of dynamite since I first lay eyes on her at an API art show, SLIT many moons ago.
Since that time, we formed our art duo twincest and worked in a bunch of films from the first scene in The Crash Pad to a more recent scene such as one in Madison Young's Art House that will be coming out sometime in the future. She has a following on Kink.com's Ultimate Surrender…and recently guest starred as a dom on WiredPussy.com. She's got a lot more lined up in the works but I wont offer any spoilers.
Over the years I've been inspired by her stamina… ahem… and the shear strength at which she throws herself headfirst into projects, ideas, design, companies, fighting, promoting (and usually creating) community, creativity, art, sex, porn, pussy, relationshipsssssss, love ….and always… with a passion and celebration of others, and an air of style and articulate finesse. It blows me away.
Shawn/Syd is:
"Like electrical dynamo powering a cannon that shoots sex sharks. That are on fire." – Fan on CrashPadSeries.com

"…a full fledged homosexual extreme performance artist with a taste for pain. Which makes her almost as cool as Roxanne Modafferi in my books, although about 50 times more intimidating." – FightLinker.com
Congrats Syd for your first front page over at Fleshbot.com with a hot article by Lux Alptraum– "A Champion in the Ring, in the Bed, and on the Screen", it definitely wont be your last!