Superfreak was the second film by Shine Louise Houston. (And it features a great non-sex cameo by her in drag as the ghost of Rick James.) It's a hilarious porn and I definitely had a lot of fun, shooting a sex scene in a kitchen with Syd Blakovich, who I was dating at the time. We soaked each other, and the kitchen, with the sink spray nossel. In Superfreak, I played with drag; wearing a blue wig and donning the name of Vasa (water, get it?) who is a bit of a brat until Syd is possessed by Rick James' ghost and things get… freaky.
The film was awarded best Dyke Sex Scene at the Feminist Porn Awards (for Lorelei Lee, Princess Donna, and Dana Dearmond's scene.)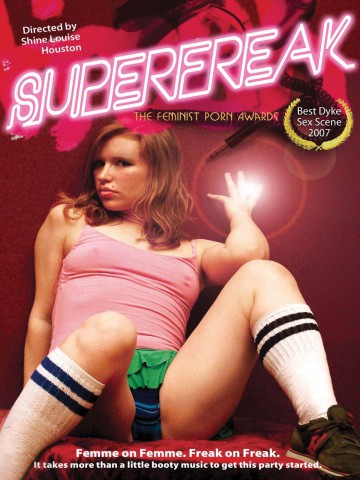 SUPERFREAK
Cast: Jiz Lee, Syd Blakovich
Description:
The premise of Superfreak is a kind of funky genius: the roaming ghost of punk-funk musician and notorious wild man Rick James possesses the bodies of queer women and makes them get super-freaky with one another. The ghost, who appears only briefly between possessions, is played by director Shine Louise Houston, who does an impression of Rick James that rivals Dave Chapelle´s.