Wow!
I am the luckiest 30 year old on the planet.
For my birthday I had a 30-person (Plus ME for good luck!) orgy at CrashPadSeries.com. I invited all the cast from the site, as well as some friends I knew were in town who are the porny type. Shine Louise Houston and I had intended to have it live-streamed, however there were unforeseen technical complications — which really sucked! I was pretty bummed about it not working out, but eventually was able to let it go and the party moved on.
To break the ice, I stripped down to my birthday suit and had everyone don a strap-on. My party guests circled around the bed and I sat on the mattress taking turns blowing their cocks (instead of candles). All were silicone cocks covered with condoms and each had a different shape, texture, and color. Some condoms were flavored. One was a feeldoe. Each short blowjob was different. I asked for fellatio tips, because I have a shallow gag-reflex and am working on learning new things when it comes to sucking cock. One of the tips was to open your throat, such as what happens in a yawn. Another tip was to get on my back and hang my head off the edge of the bed to allow for a straight line from my mouth to my throat. I played around with the ideas and writhed on the bed enjoying their eyes on my body and the sucking action.
Some receivers held my head. Some, like Princess Donna, thrust their hips. The second to last cock was ENORMOUS. It was about 2 1/2 inches wide and… my guess is 2 feet long. Needless to say, I only got the head in. But what a visual!
Just when I thought that was the last one, Micah Riot hopped up on the bed and flashed a tiny red one at me. It was so small in comparison I could almost deep throat it all the way. My mouth and eyes were watery and I was ready to move on. Some guests were too — soon there were at least 3 or 4 cock sucking pairs going down around me. I hopped off the bed to make room for some action and checked on the tech. Live-streaming was a no-go, so Shine and Amanda picked up cameras and got to work in the room.
Sorry you missed the ice breaker, but I hope my description painted a picture.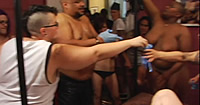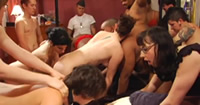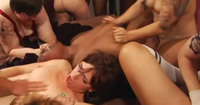 The cameras were rolling now, and the action was ON. I sent a tweet and peeked in the room and watched hot queers going at it. I made out with Arabelle Raphael and James Darling. What a HOT duo and great kissers too. Arabelle put a glove on and quickly got to fisting me. She's so gorgeous and her mascara left traces whereever she kissed. Just as Arabelle and I were wrapping up, I heard Princess Donna say "I want in on the birthday…" and she slipped on a glove and applied lube up to the wrists and started working her magic. Donna's a pro when it comes to making people ejaculate and she's got a good technique at pulling in a direction which causes the fluid to project out towards her breasts. It's pretty amazing to watch. Whenever you sub to Princess Donna, you tell her thank you for making you come. So you'll hear me saying "Thank you Princess!" pretty much the whole time I'm drenching her blouse.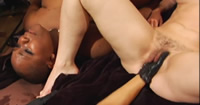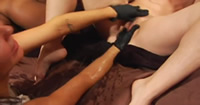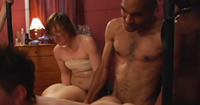 After that I noticed my friend Mickey Mod in the other room and caught his eye. For folks who are curious about my queer sexuality, I love many genders and cisgender queer men are not excluded. This shoot marks my first scene with a cisgender/assigned-male lover. (Wow!)
After Mickey, a handsome older friend "tagged in". I'm not sure what their stage name is so I'm going to be vague. I will say that they felt really REALLY good and I  came again all over their clothes.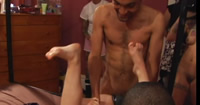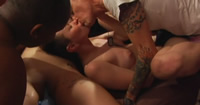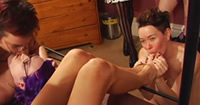 To wrap it up, I got to service Princess Donna and thank her for her earlier fists by sucking on her toes. I'm completely in love with her feet and I think you can tell looking at the footage. Plus kneeling there gave me the optimal view as I could see her touching herself, and I have to say, she is so beautiful when she comes it makes me want to cry.
Watching the footage was fantastic because I got to see all the OTHER action that was happening, such as my Tucker Saxon getting fisted for the very first time by James Bondage, and I loved watching Sophia St. James and Micah Riot go at each other. Speaking of GOING AT IT, Tina Horn and Roger Wood were amazing. Tobi Hill-Meyer and her sweety Briar were adorable, as were Tobi and Maya Mayhem, and Marlo Davis and L. And if you want to get a glimpse of the enormous cock from my ice breaker, you can see it just after 9 is done with it. There was so much more that happened. You really have to sign up and watch.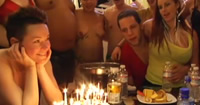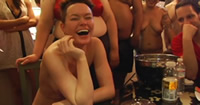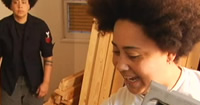 After the orgy winded down, Shine asked people to say happy birthday to me for the camera. I smile so big when I watch it (I watched it three times!). Everyone is so sweet and beautiful. I loved especially that folks who were not in the room fucking got on camera to wish a happy birthday, like Wolf and Cinnamon and Dr. Handzy and Brooklyn Flaco. P.S. I like the part when Shine and people called me as "birth day girl" and you hear me coming from the other room saying "I'd love to be called 'birthday person'." As well as the sound-effect orgasmic cake. (Which was delicious!)
As a bonus, Shine posted a special update explaining what went wrong. Like many special Shine Behind the Scenes updates (for Level 3 Members), it stars Shine and Shine. This one features another special guest. I cracked up watching it!
If there's anything you can do for my birthday, sign up for this Level 3, if only for one month. Watch the birthday party, which is as much laughter as it is moans. There's such a variety of love and bodies and I'm so touched and appreciative. Thank you Shine Louise Houston, thank you all the members of CrashPadSeries.com which make the site possible, thank you all the models and friends who came, and who obviously make the site possible too! Thank you Good Vibrations (goodvibes.com) for supplying a TON of safer sex supplies. One of the most beautiful parts of the event was the communication and asking for gloves, lube, what others wanted. Watching the timing and orgasms flow from one to the next. Doing the party, and reliving it on screen afterward… this has been the best 30th birthday I've ever had. 😉
The small images I've included in this post don't hold a candle to the action. If you're not a card-carrying, Level 3 proud flag waving member of the queer porn site CrashPadSeries.com, now IS the time.