This was my very first porn scene, with my partner at the time, Syd Blakovich. The film launched our porn careers and will forever hold a special place in my heart for the intense chemistry and dirty, nasty hot sex. Plus an epic ejaculation scene — hence the name Jiz Lee! It spawned the spin-off website CrashPadSeries.com, and inspired video producers of queer porn, but it all started right here in Shine Louise Houston's The Crash Pad. It was awarded the 2005 Feminist Porn Awards' "Hottest Dyke Sex Scene" (Syd and I both identified as genderqueer at the time. The name of the scene was Boi/Boi.)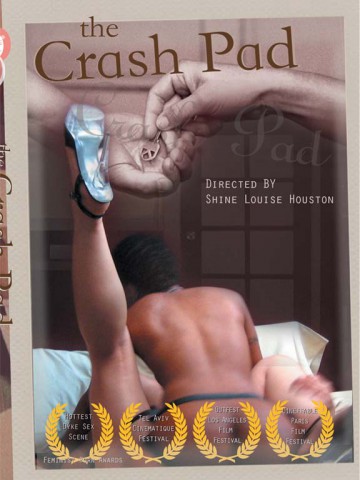 The Crash Pad
Stars: Jiz Lee, Syd Blakovich
Description:
The Crash Pad is amazingly hot hardcore indie feminist dyke porn, sure to appeal to anyone who likes seeing gorgeous women and queers do wonderfully nasty things to one another. These aren´t your standard porn star types, but a hip Bay Area cross-section – the sultry femme, the cute boi, the tattooed, and the pierced are all represented. How hot is this movie? Within the first seven minutes, you´re treated to double penetration with strap-ons, and it only ups the ante from there. There´s cocksucking, cuntlicking, anal fucking, rimming, squirting, masturbating, three-ways, and more.
The premise is simple: there´s an apartment, and if you´re lucky enough to be given the key, you can let yourself in… and let yourself go. Real sex, real orgasms, real sweat, real bodily fluids, real laughter – this is the genuine article, so utterly natural that the fact it´s being filmed seems nearly incidental. Director Shine Louise Houston has become one of the leading lights of the feminist porn movement, and her debut film demonstrates her unparalleled sense of style, humor, and, most of all, her dedication to hot real sex. The Crash Pad is a feature so groundbreaking that it spawned a renaissance of queer pornography. Winner of the Hottest Dyke Sex Scene from the Feminist Porn Awards.