I'm quite smitten by Nikki Hearts, who got her start with Burning Angel. We had an opportunity to met while on set at CrashPadSeries.com (Check out Nikki's shoot, it's impressive and she's so professional!) When she invited me to shoot with her for her new project, I could only say yes! We both agreed upon exactly what we wanted to do, which in this case was a safer sex shoot = go queer porn! I got majorly turned on making out with her, and sucking her strap-on cock (okay, it was mine that I brought and she wore… even better) and we only ramped up intensity from there!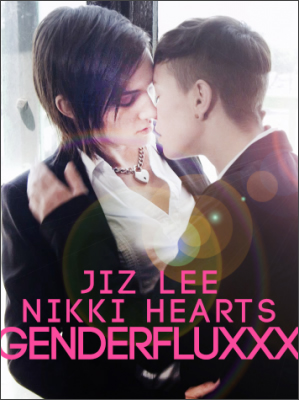 Stars: Jiz Lee, Nikki Hearts
Description:
GENDERFLUX brings genderfluid strap-on fucking to its highest form, shot in HD, with high voltage chemistry between Nikki and the incomparable Jiz Lee. Nikki meets Jiz in an industrial loft for a clandestine power hook-up. They each strip off their sophisticated suits to reveal two matching hard strap-on cocks, ready to get wet. Jiz juices up Nikki before letting her fuck them to orgasm, then Nikki slips into Jiz's puddle and gets her own slice of strap-on perfection. Nikki Hearts and Jiz Lee are a match made in queer porn heaven!